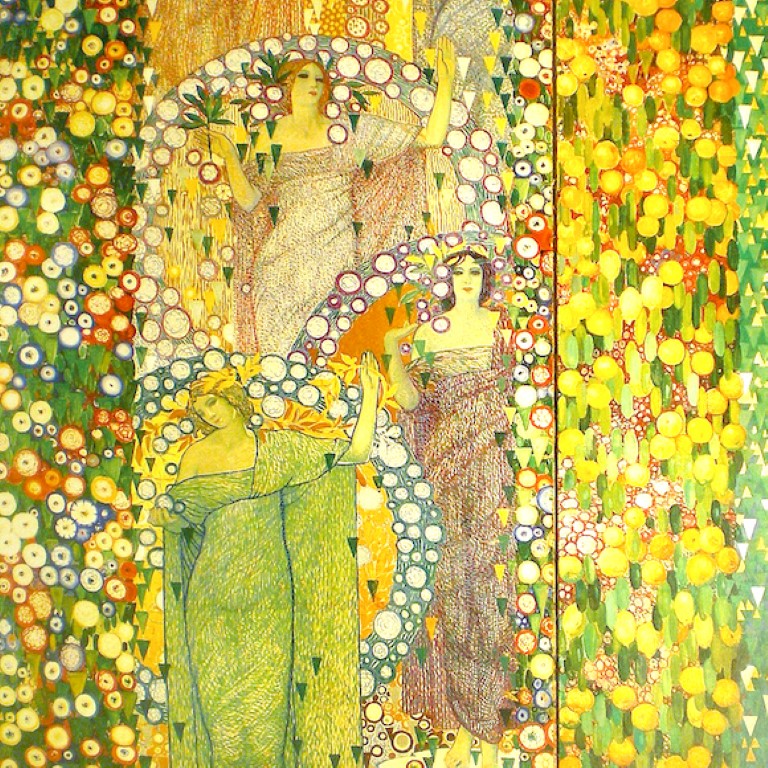 The starting point on our ideal itinerary through Montecatini is Caffè Gambrinus, which is situated on the southern end of the Verdi boulevard, its terrace and famous colonnades face the former Locanda Maggiore Hotel courtyard; originally this resort, on demand of Grand Duke Leopold, included two areas, one with paid admission and one free, to supply refreshment and comfort to poorest wayfarers. Today, under its arcades, we find shops and a bar with a restaurant.
From here, turning left and walking towards Piazza del Popolo, we notice the Santa Maria Assunta church, built in 1962 following a project by the architect Raffaello Fagnoni; inside, we can admire the wonderful glass windows by Giorgio Scalco, the painting Cristo fra Marta e Maria by Aladino Ghioni and a crucifix by Sauro Cavallini.
(Please note, a few meters South of the church, you can find the Come and See Italy office headquarters!).

From the Piazza del Popolo, walking along Corso Roma, on the right, we find the Grand Hotel La Pace and decorating the wonderful interiors are frescos by Galileo Chini. A few steps along from the hotel, is the Kursaal facade, this was part of a grand theatre with 1.300 seats, built following Liberty standards, which has since been transformed into a modern residential complex. Returning to Verdi boulevard and leaving Caffè Gambrinus to our right, we arrive at the Town Hall (Palazzo Comunale), built in the 1920's by plan of architect Raffaello Brizzi. The interiors house a majestic monumental staircase, many decorations and frescos naturally illuminated by a large Liberty skylight, an artwork signed by Galileo Chini.

In 2012 the Montecatini Contemporary Art exhibition (MO.C.A.) was inaugurated on the ground floor of the town hall. It is here we find several masterpieces from the 1900's permanent collection and one of the highlights is the Vita (Life) by Pietro Annigoni, who became internationally famous in 1955, when he painted the Portrait of Queen Elizabeth II.
You can find another work by this artist, a great fresco, inside the cathedral of Ponte Buggianese, a village situated 10 km from Montecatini.

Many artists have donated their masterpieces to the city of Montecatini, for example, Antonio Possenti, Sigfrido Bartolini, Mino Maccari and Walter Piacesi. We also find artworks by contemporary artists such as Marco Lodola, Fabio De Poli, Massimo Biagi, Sosso, Enrico Visani and Zeb within this exhibition.
Within the last hall we arrive at the most important masterpiece of the entire collection: Joan Miró's painting Donna avvolta da un volo d'uccello, which was donated to the city of Montecatini on occasion of the show-event Mayo Miró, arranged by Carlos Franchi in 1980. A very special event, made more so by the presence of international artists Arp, Arroyo, Cuevas, Pignon, Rebeyrolle and Tapies.

As we exit the Town Hall, opposite is the famous Verdi Theatre, renowned for TV shows that were produced there. We continue however along the Verdi boulevard, with the Town Hall on our right we find the most important thermal buildings and Spa resorts, amongst which the Tettuccio building really commands our attention thanks to its size and beauty; it is exquisite and really it is one of the great highlights of Montecatini. If you would like to see more information on the thermal buildings of Montecatini continue reading this article.

GALILEO CHINI AND LIBERTY
An unpredictable and eclectic artist, who would be defined as a modern "artistic director" nowadays. Surely, Galileo Chini is one of the most important interpreters of the home decoration style, that in Italy, from the end of the 1800's up until the 1930's has been named Liberty style.
After a period of education and after gaining experience in decoration and interior restoration, Galileo Chini, with his cousin Chino, founded the San Lorenzo Furnace in Borgo San Lorenzo in the Mugello valley. This led to great success with ceramics and glass walls; he was also appreciated for the design of wooden pieces of furniture decorated with coloured glass and ceramic, embellishing interiors and facades of several villas and buildings in Italy and abroad, where he was considered a celebrity.

Amongst the many prestigious works there were also the projects for the Palace of Throne of Rama V, King of Siam (Thailand today). It was during his many frequent trips around the world in fact, that Galileo Chini understood the principles of the Art Nouveau style that was propagating in that period. A decoration and architectural style that in Italy was named "Floral Style" or "Liberty" and we can see this style in many of the most important buildings of Montecatini Terme.

Galileo Chini didn't limit his art influence to interior and facade decoration; he was also a great illustrator, painter, (i.e. the famous Versilia views), author of cultural events, advertising posters and theatrical scenography, for example the very famous posters created for the opera's Gianni Schicchi and Turandot by Giacomo Puccini in the early years of the 1920's.
He was a great tuscan master, known for his multidisciplinary talent and one of the first promoters of Made in Italy in the world!
If you like this article then please follow our blog and social media accounts (Come and See Italy, on Facebook, Instagram and YouTube). You can also subscribe to our Newsletter, and receive the latest news on this fascinating territory, the excursions we arrange which can also be tailored to your specific requirements!