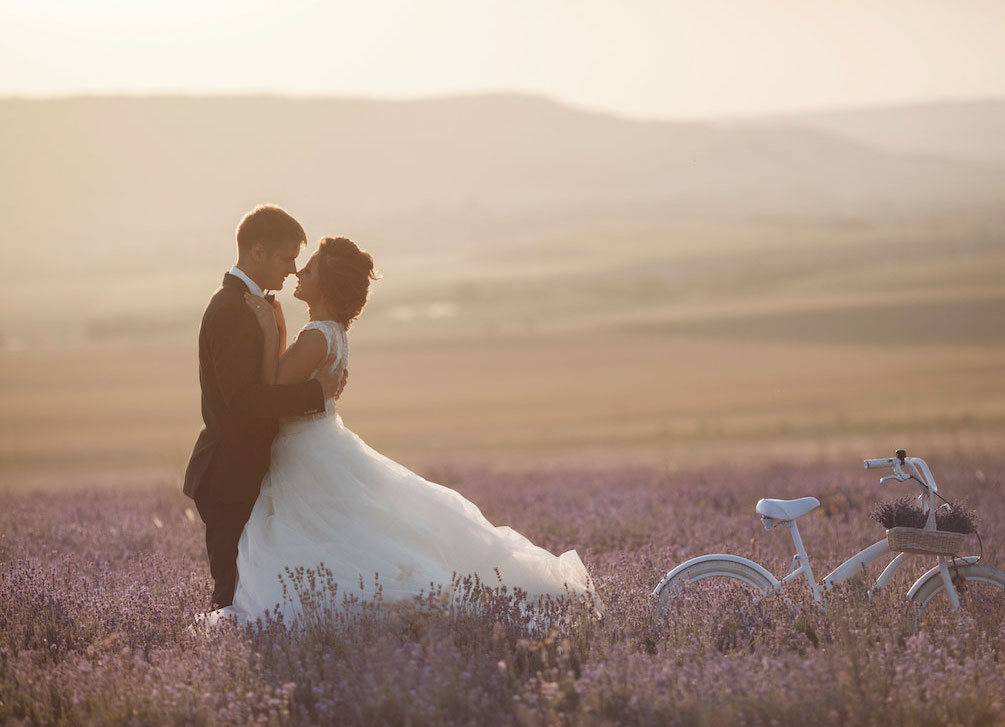 On the occasion of a wedding celebration, our experience, local knowledge and management skills are invaluable in the planning and realisation of the perfect cerebration. Able to work within a team or as individual specialists in accordance with the bride and groom, our aim is to stage the perfect wedding.
Choosing a location can be one of the hardest decisions to make, our involvement within this process, is the research and assessment of the location and facilities of such venues, for example, of Castles, Villas and Farmhouses.

In some cases, the ceremony and the reception can take place within the same venue i.e. a farmhouse or castle with a little church inside, alternatively separate locations can be found with quick and easy access, if required, between the two.
Once the itinerary and schedule of the day or days are finalised, our wedding team can plan each service, taking care of every detail if required, including the accomodation of guests and any planned activities they might have in Tuscany.
One such wedding was that of Albert and Letizia, whose marriage took place in June 2019 in a wonderful chapel inside an historical farm house on top of the Chianti hills. He was an American from Boston, and she was Italian from neighbouring Bologna. As you can imagine their wedding
party were international!

Albert and Letizia chose floral decorations selected from the typical field flowers of the area; red poppies against a carpet of daisies, wild grass and spikes of wheat, a symbol of fertility.
Standing in vases or "cotto tile" from the famous "Cotto Impruneta" which is produced in Tuscany, the flowers decorated a little country church and the restaurant reserved for the event.

After the wedding ceremony, the newlyweds were whisked to a picturesque photostop that our photographers had chosen, it's easy to imagine the gorgeous Chianti Classico hills as the backdrop to the newlyweds as they posed for our photo/video team.
In the meantime, the guests arrived at the restaurant, and began sampling the aperitif whilst enjoying the beautiful landscape. Once Albert and Letizia arrived, the party officially started, with live music playing Italian and American songs.

The wedding menu, inspired by tuscany specialties, finished with the traditional cutting of the wedding cake, handmade by a local pastry chef, the "Dolce Incontro" or Sweet Meeting for the special combination of custard and cream, was followed by handmade party favours, given to each guest, using fabrics and papers typical of the area, and decorated with field flowers and berries.

As the party officially came to a close, many guests chose to continue their stay in Tuscany, relaxing in a farmhouse surrounded by vineyards producing the famous Chianti red wine for a further few days, allowing them time to also visit other famous sights of Tuscany.
As you can imagine, the personal wedding possibilities are endless in Tuscany. We consider a high quality service extremely important, which is possible thanks to the area itself, Tuscany, whose beauty is boundless and to our effective collaborations with other specialists such as florists, and catering professionals to name just a few. Never one to rest on our laurels we are constantly updating and searching for the next fantastic location, so keep updated with us !

If you liked this article, subscribe to our Newsletter and follow us on our social media channels: Facebook, Instagram and YouTube, where you'll be able to view contents about the various experiences that we offer and customize for our clients.
Thanks for reading, and we wait in anticipation to arrange a special experience for you, here in Tuscany!